WELCOME TO MREC
The Mid-Florida Research & Education Center (MREC) offers Research, Teaching, and Extension programs centered on environmental horticulture, vegetable, and fruit crops in three broad areas of study:
Plant Development – breeding, developmental biology, biotechnology, landscaping, and economics.
Plant Production – nutrition, water use, light, and horticulture
Plant Protection – plant pathology, entomology, weed management, and IPM.
The major commodity-based clientele supported by MREC programs are the tropical foliage, cut foliage, woody ornamental, grape, and vegetable industries. These clientele are further served by Extension programs that are developed and produced by local, state, and national Extension faculty with the cooperation of the MREC faculty and staff . The aquatic insect pest program supports a more general constituency. The new teaching program will further broaden the MREC clientele base. 
________________________________________________________________________________________________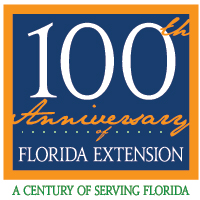 In 2014, we celebrate the 100th anniversary of the Smith-Lever Act, which established the Cooperative Extension Service.  The primary focus of the Centennial celebration will be on contemporary efforts and launching Cooperative Extension for the next 100 years of educational programming that transforms behavior of individuals, families, youth, farmers, communities, and businesses.
May 8th is the anniversary of the signing of the Smith-Lever Act and there are both national and state events planned for that day. Click here to learn more.
________________________________________________________________________________________________
Mid-Florida Research & Education Center
2725 S. Binion Road, Apopka, FL 32703-8504 (directions)
Tel (407) 884-2034 • Fax (407) 814-6186 (contacts)